For the past six years, the DöBra Research Program team has worked to diminish avoidable suffering in the context of dying, death and loss, by supporting people to prepare themselves to deal with these issues. Now, during the corona pandemic, this has become even more relevant for many of us.
To reflect on, and discuss these issues with those we care about in advance, has shown to be one way to diminish future uncertainty and problems.
Through our research, we have developed and used tools that may be of help for those who are interested and wish to engage in these topics.
If children have questions about dying, death and loss, there is a toolbox with practical exercises intended to support intergenerational conversations on these topics. It is available free of charge, download it here.
If you would like to reflect on your own or with others about what might be important for you or someone close to you on approaching the end-of-life, the GoWish cards may be helpful. They are available through Coda Alliance in several languages. In the DöBra Research Program, we have translated and adapted these cards to the Swedish context. Read more here.
If you miss someone because sickness, death or necessary physical distance keeps you apart, you can send a greeting, write your thoughts or tell something about the person you are thinking of, on our Reflection Wall.
Läs mer
Professor Carol Tishelman och hennes team får KI:s kulturpris 2021 för sitt innovativa arb...
Läs mer
I senaste avsnittet (nr 16) av Äldre i Centrum-podden diskuteras Lena Kroiks doktorsavhand...
Läs mer
Två nya vetenskapliga artiklar från forskningsprogrammet DöBra har publicerats i den veten...
Läs mer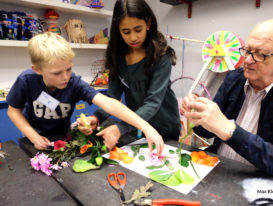 The research program is comprised of a number of projects with th...
Läs mer